Hippotherapy Services
Therapy on Horseback
Build Skills, Meet Milestones
Hippotherapy is Speech, Physical, and/or Occupational Therapy conducted on horseback.
Every element of hippotherapy is beneficial to an individual with special needs. The fresh air and pastoral setting of the ranch … the gentle, rhythmic movement of the horse … the unique therapeutic outcomes … the bond between horse and rider.
It all comes together to bolster client achievement, empowerment, and progression.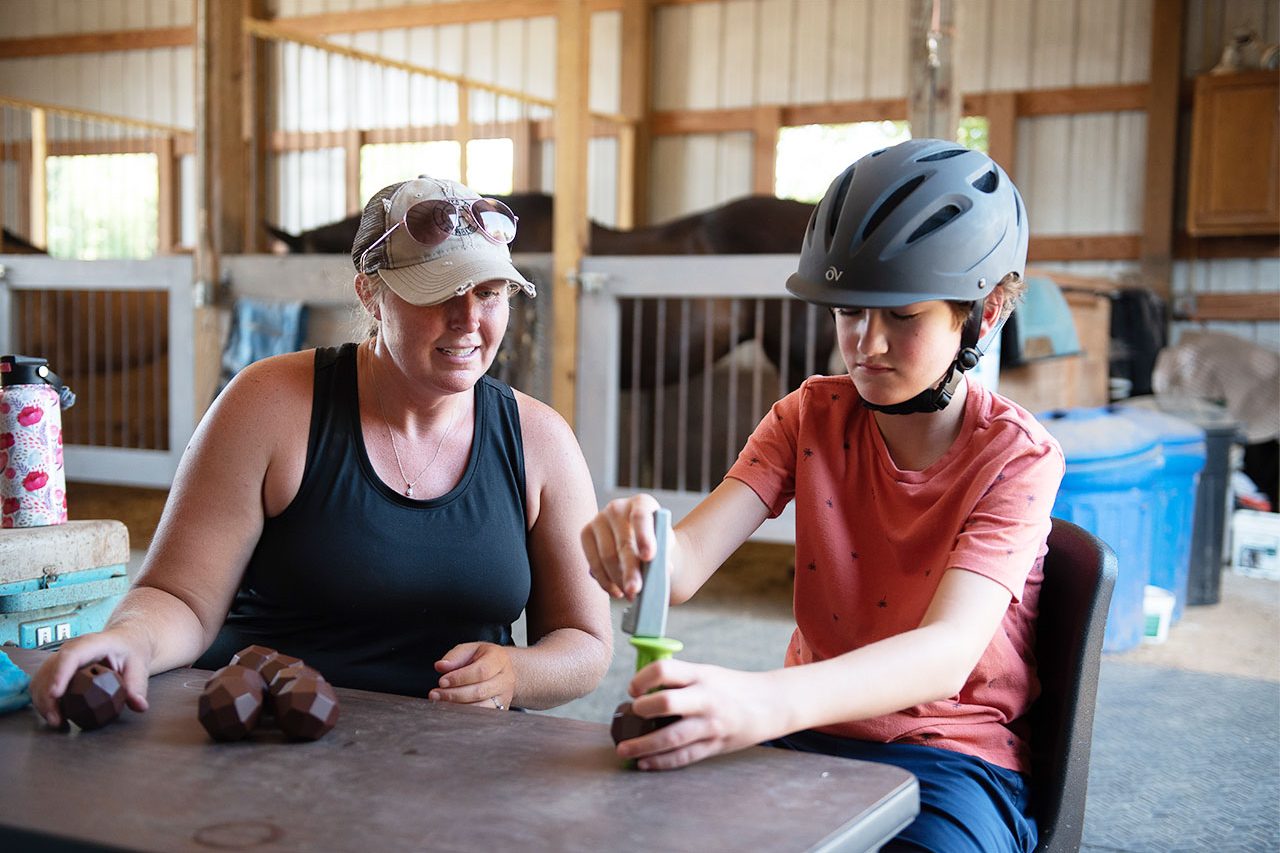 Sample Hippotherapy Session
There is no such thing as a "typical" hippotherapy session. Every equine-assisted therapy session is individually designed for the client and includes specific strategies and tools to achieve their unique goals and milestones.
During each hour-long session, a client will spend about half of the time on the horse and the other in the barn. Whether walking on gravel or in the mud, carrying hay, or brushing a horse's mane – every activity presents a therapeutic opportunity.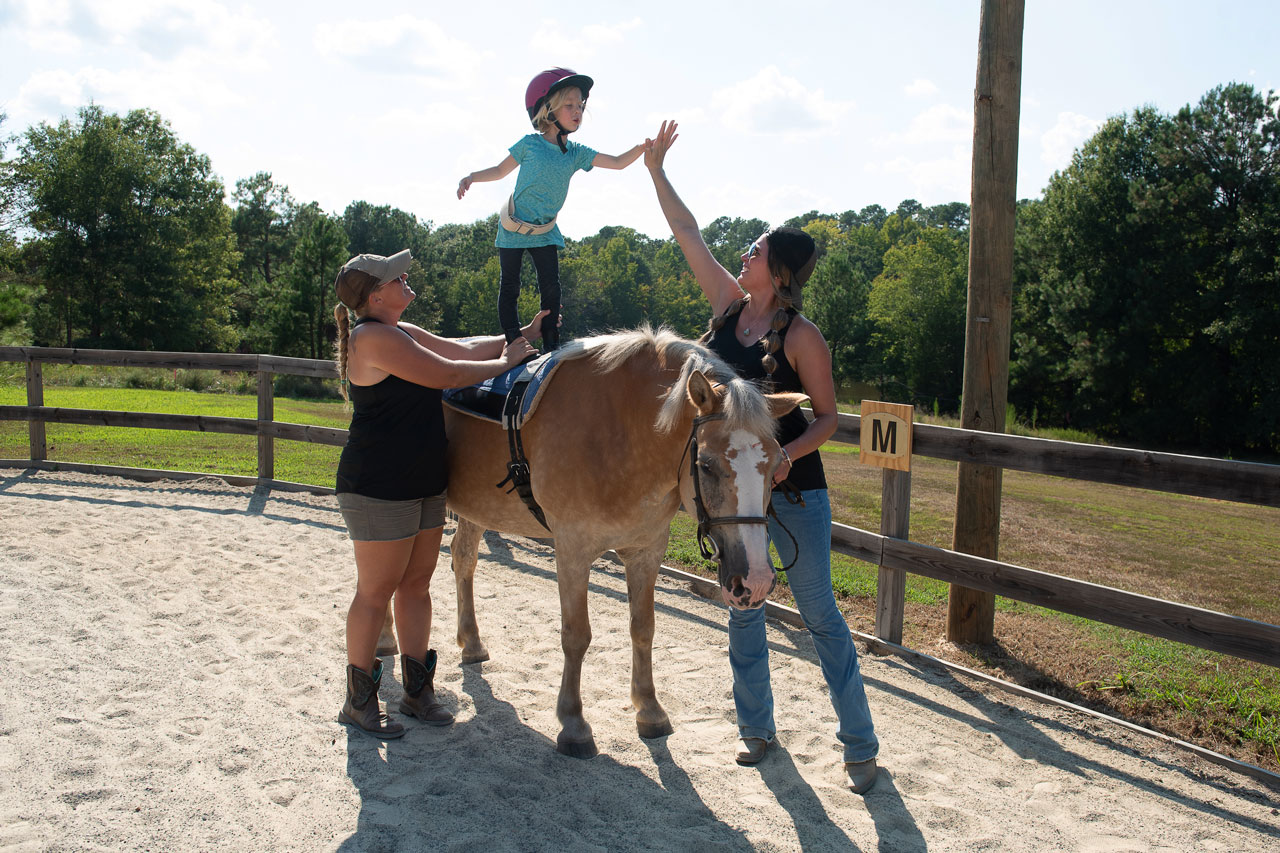 How Does Hippotherapy Work?
Sitting, standing, or laying on a horse gives access to otherwise out-of-reach therapy tools. The warmth, impulsion, rhythm, and repetition of the horse provides the client with incomparable levels of highly beneficial neuromotor input. Everything about the horse is relevant to the client's therapy progress, from its girth to its gait, making an hour-long hippotherapy session enormously impactful.
At Carolina Therapeutic Ranch, every client is accompanied by three adults – an AHCB (American Hippotherapy Certification Board) Therapist and Certified Occupational Therapy Assistant (COTA), either a Physical Therapist (PT/PTA) or Speech Language Pathologist (SLP), and a trained horse leader. Every week, all clinicians providing hippotherapy are observed and supervised by two fully certified Carolina Therapeutics therapists, a Board Certified Doctor of Physical Therapy and/or a fully licensed Occupational Therapist.
The Benefits of Hippotherapy
Incorporating equine movement into a traditional pediatric therapy plan produces several outcomes, including:
Our Areas of Specialty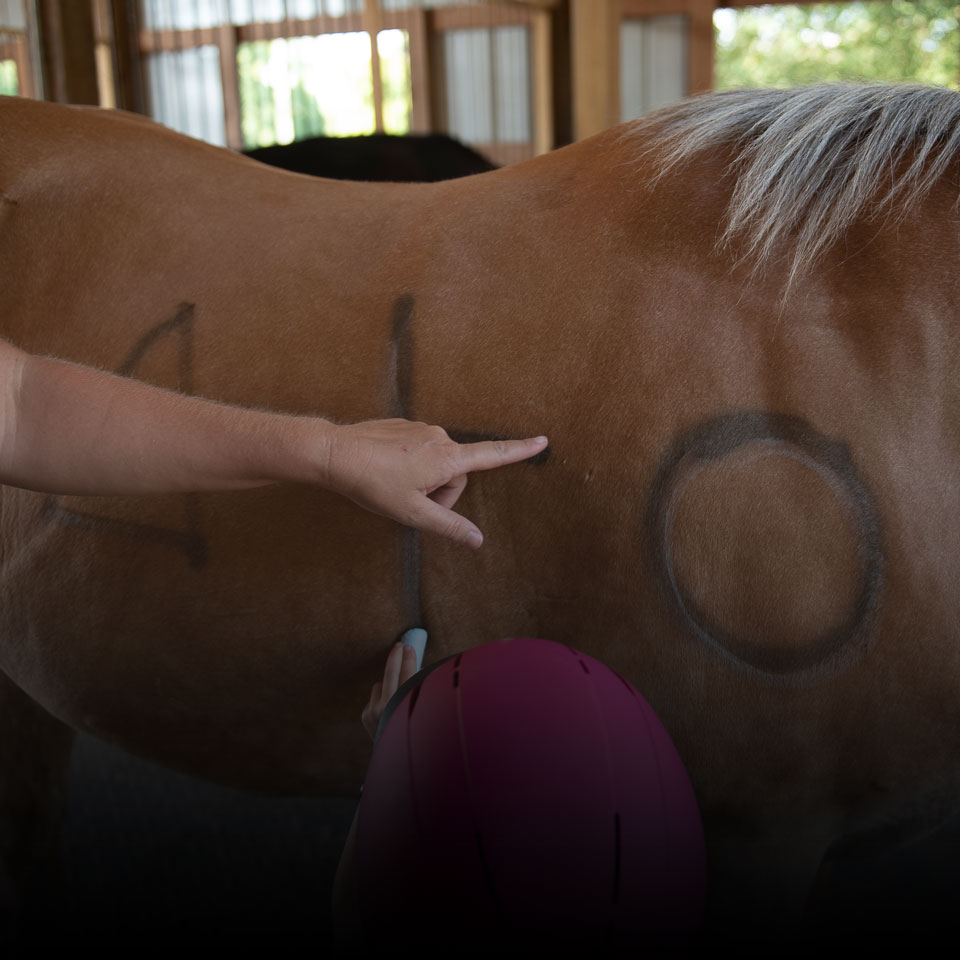 Speech Therapy
Speech Therapy supports children who have difficulties with producing speech sounds, language comprehension and use, social communication, reading, and feeding/swallowing.
Physical Therapy
Physical Therapy supports children who have difficulties with gross motor delays, upper/lower motor extremity weakness and coordination, mobility, and range of motion, or require gait training.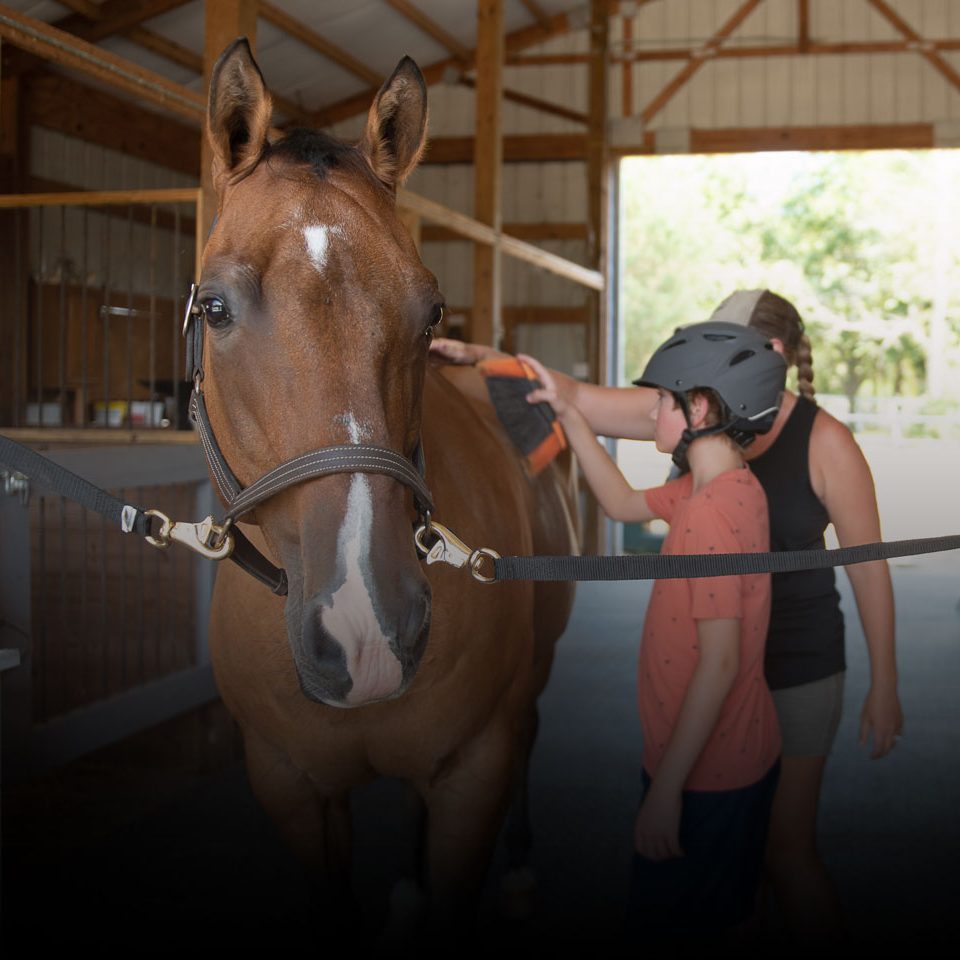 Occupational Therapy
Occupational Therapy supports children who have difficulties with fine-motor, visual-motor, sensory processing, and coordination, as well as challenges with completing executive functioning tasks.
Candidates for Hippotherapy
Most often, those who benefit from Speech Therapy, Physical Therapy, and/or Occupational Therapy have one or more diagnoses, including:
ADHD
Aphasia
Juvenile Arthritis
Asperger's Syndrome
Autism Spectrum Disorders
Auditory Processing Disorder
Bone Fractures
Cerebral Palsy
Childhood Apraxia of Speech
Cleft Lip/Palate
Cognitive Disorders
Congenital Heart Conditions
Degenerative Disc Disease
Developmental Delays
Down Syndrome* & Genetic Syndromes
Dysphagia & Feeding Disorders
Expressive & Receptive Language
Juvenile Fibromyalgia
Gastrointestinal Reflux Disease
G-Tube Dependence
Golfer's Elbow
Hearing Impairments
Labrum Tears
Laryngomalacia
Muscle Spasm
Oromyofunctional Disorders
Orthopedic Injuries
Patellofemoral Pain Syndrome
Premature Birth
Rett Syndrome
Rotator Cuff Rehabilitation
Scoliosis
Sensory Processing Difficulties
Spina Bifida
Spondylosis and Stenosis
Stroke
Stuttering and Cluttering
Traumatic Brain Injuries
Vision Impairment
* With doctor clearance for Altanto-axial instability
Ready To Enroll?